Powerful effect plug-ins to spice-up video editing, HD, SD, DV
ProDAD - Support :: ID [32 ] :: 2006-08-29
!!! JavaScript required !!!
Question:
How to create and use an Adorage-Transition in Premiere Elements or Pro.
Answer:
The assignment of the Adorage-Plugin as transition in the timeline generally happens exactly in the same way as with Premiere-own transitions.
Once assigned as transition, press the "Custom..." button in the effect properties of Premiere to find the way to the huge Adorage effectlist with its thousands of presettings and all the Adorage-internal customization possibilities.
Image #1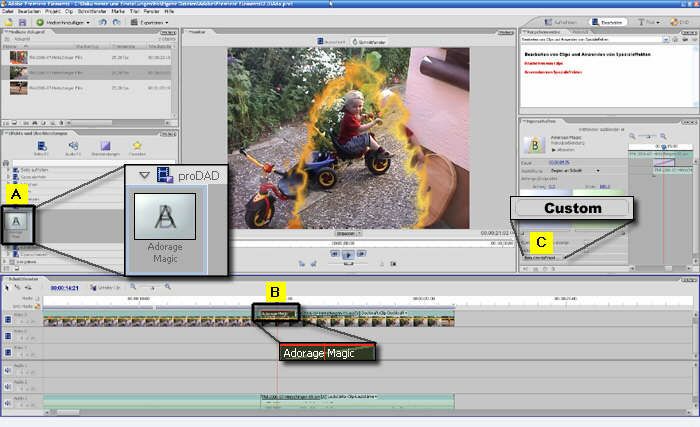 Drag the Adorage item from the transition's list [A] to the timeline [B]. Drop Adorage between the overlapping area of the both clips (as you know from Premiere-internal transitions). After the effect is assigned, press "Custom" [C] to customize the effect and/or to get the effect list of the installed Adorage effect packages.

Following [Images #2, #3] shows: how to create overlapping clips
Image #2

Overlapping clips requires trimmed clips. Trim left clip at the right end and the right clip at its left start.
Image #3

Move the right clip to the left to create the overlapping area.