Powerful effect plug-ins to spice-up video editing, HD, SD, DV
ProDAD - Support :: ID [85 ] :: 2008-01-07
!!! JavaScript required !!!
Question:
"The Videoanalysis must be executed again"
appears in the video preview.
How to start the
"Videoanalysis"
?
Answer:
If Mercalli is assigned as filter for the first time, the video data needs to be analysed first.

For that purpose just mouse click on the button as shown in [Image #1] .

The Videoanalysis starts and the text in the video preview disappears.
Further information about Analysis and Stabilisation is available in the program's help (Press 'F1' Key to display the help).

Image #1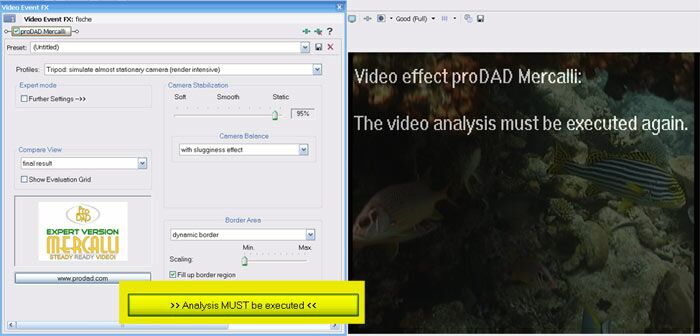 Just click this (here color-marked) button to start the video analysis.
(Screenshot here from Sony Vegas, also valid for other editing solutions such as Canopus Edius)