Powerful effect plug-ins to spice-up video editing, HD, SD, DV
proDAD - Support :: ID [74 ] :: 2007-09-29
!!! JavaScript requis !!!
Question:
The plugin interface of Liquid 7.x / Studio 12.x doesn´t pass on several video format relating informations to Plugins, which may give incorrect results with Mercalli. Thus proDAD modified Mercalli from version 1.0.8 with a workaround. Now this Liquig plugin interface limitation can be solved by users intervention defining the video-format in a new menu manually.
Réponse:
Attention!
Always, if the displayed "Video-Format" doesn´t fit with the Liquid project settings, it is assumed that Liquid didn´t pass on the format settings correctly to the plugin. The results are only suboptimal stabilisations or even counterproductive results.

If above described phemomens are appearing, wrong video format settings can be identified as following unwanted effects:

- a "V" appears on the video [Error #3]
- suddenly, short shiftings like sudden "shocks" are appearing
- extreme video flickering
- a comb-shaped effect appears in the video
- several areas in the video are flickering for a short time

From Mercalli 1.0.8 this Liquid plugin-interface limitation can be solved as following:

In Mercalli under "Video-Format" the same format needs to be choosen as it also appears in the"Sequence" of the used Liquid project.

Sample for NTSC:
To stabilise NTSC, also a (NTSC) format needs to be selected.
The standard frame priority in Liquid is"Bottom Field First", as in [Image #1] .
This needs to be set in Mercalli too (due to the above described error of the Liquid plugin interface)

Important Note:
For a correct function of Mercalli the background rendering of Liquid must be switched off!
Image #1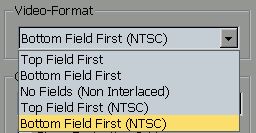 Sample "Video-Format" for the use in NTSC
Image #2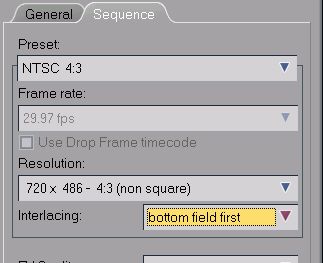 Sample properties of the NTSC - Sequence in Liquid. These settings must appear in Mercalli too. Else they needs to be set by hand.