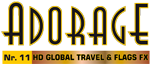 Adorage Effects Package 11 - HD Global Travel & Flags FX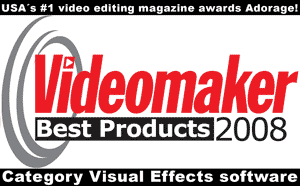 "Travel effects" – with over 100 international flags, the continents and lots of outlines of individual countries. Also containing ingenious compositions of all these features, in HD resolution throughout. The effects and transitions in Adorage Effect Package 11 make it child's play to combine national and international symbols with the moods of a travelogue. You can of course enhance SD footage with the effects contained in this package too.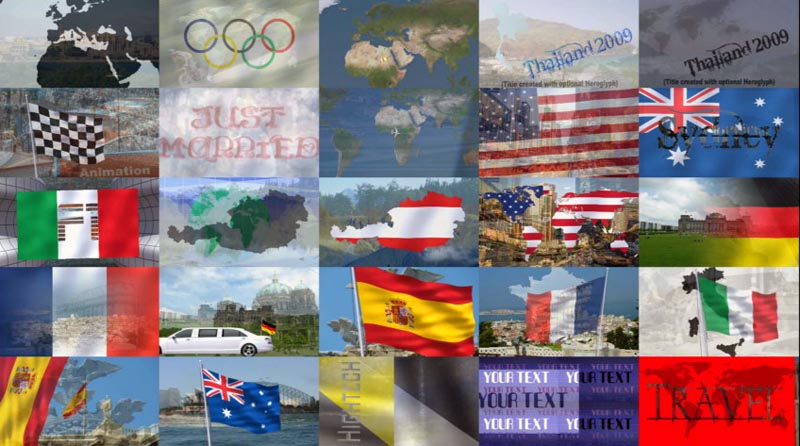 Containing more than 5000 travel-themed filters and transition effects in HD.
This package offers you a range of amazing effects for your video productions. And these are the themes:
Over 100 flags of various nations
Plus flags for the themes Olympics, motor sport and wedding
Continent outlines as transition effects or sophisticated filters
Country outlines for use in transition effects
Flag borders to add atmosphere to your footage
| | |
| --- | --- |
| | Egypt, Argentina, Australia, Bahamas, Bahrain, Bangladesh, Barbados, Belgium, Bolivia, Bosnia-Herzegovina, Brazil, Bulgaria, Chile, China, Costa Rica, Denmark, Germany, Dominican-Republic, Ecuador, Estonia, Fiji, Finland, France, Georgia, Greece, United-Kingdom, Guyana, Haiti, Honduras, India, Indonesia, Iraq, Iran, Ireland, Iceland, Israel, Italy, Jamaica, Japan, jordan, Canada, Quatar, Kenya, Colombia, Croatia, Cuba, Kuwait, Latvia, Liechtenstein, Lithuania, Luxemburg, Madagascar, Malaysia, Maldives, Malta, Morocco, Mauritius, Macedonia, Mexico, Micronesia, Monaco, montenegro, Namibia, Nepal, New-zealand, Nicaragua, Netherlands, North-Korea, Norway, Austria, Oman, Palau, Papua-New-Guinea, Paraguay, Peru, Philippines, Poland, Portugal, Romania, Russia, Samoa, Saudi-Arabia, Sweden, Switzerland, Serbia, Seychelles, Singapore, Slovakia, Slovenia, Spain, Sri Lanka, South-Africa, South-Korea, Taiwan, Thailand, Trinidad-And-Tobago, Czech-Republic, Tunisia, Turkey, Ukraine, Hungary, USA, United-States, Vatican-City, Venezuela, United-Arab-Emirates, Vietnam, Belarus, Cyprus, ... |
Bonus included in this package:
Sophisticated globe effects
Effects with route animation capability for an aircraft, ship etc.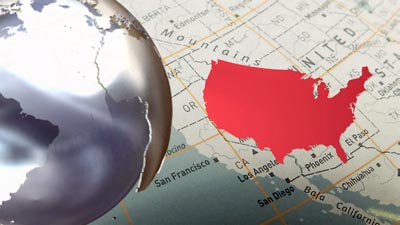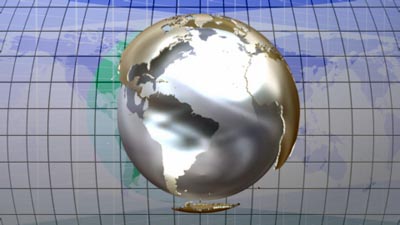 The best Adorage effects ever – in Adorage Volume 11!
Multicore support for superfast rendering
Easy-to-use effect selection with the Effect Browser
Improved handling
New video filter plug-ins for a wider range of uses
Our recommendation to users of other Adorage effect packages:
get all the above benefits by installing Adorage 11 to tune your "old effects"!
Introductory price! 20% discount!

Order Effect Package 11 now at the introductory price – as a download or including an optional CD.
Effect Package 11
Also available from all participating dealers
Latest Review:
Adorage Effects Package 11: www.computer-takeaway.co.uk
More than 100 different countries flags, country and continent outlines, and a fantastic series of transformations that can be tailored to depict the movement of a plane, ship or automobile (think Indiana Jones style flight transitions between destinations!) add up to provide an excellent way of editing up a travelogue

As with proDAD Adorage Effects Package 10, proDAD Adorage Effects Package 11 provides a professional set of tools for anyone serious about their video production. Everything is very simple to use and the plugins appear to have been optimised for use with every mainstream video editing package to make the process even simpler than previous packages.
Read more ...
---
Adorage Effects Package 10: www.computer-takeaway.co.uk
The program certainly offers a lot of effects and it is easy to see why many amateurs and professionals enjoy using the software. The package offers themed effects in the genres of "Love & Weddings", "Family Memories", "Holiday, Travel & Landscapes", "Parties & Events" and also "Sports". Additionally a full range of non-themed effects are included for more customised scripts, including the all important opening and ending effects.

If you do a lot of video editing, whether as an amateur or professional, Adorage Effects Package 10 offers a series of very simply implemented, yet professional effects, with plug-ins for the most commonly used video editing packages and we feel it is well worth purchasing.
Read more ...
---
The Online Software Magazine, UK
This program definitely offers a huge amount of stuff for the money and I am confident that both amateurs and experts will find more than enough to pull out of the bag.

Adorage 10 offers a series of very simply implemented, yet professional effects, with plug-ins for the most commonly used video editing packages. With over 700 customisable video and transition effects it is easy to see why ProDAD have become a leading player in the video editing market.
Read more ...



Adobe

Adobe Premiere Elements


1.0, 1.5, 2.0, 3.0, 4.0, 5.0, 6.0, 7.0, 8.0

Adobe Premiere Pro


1.0, 1.5, 2.0, CS3

Adobe Premiere CS4compatibility




Sony

Sony Vegas


5.x, 6.x, 7.x, 8.x

Sony Vegas 9

(32 Bit)

Sony Movie Studio


6.x, 7.x, 8.x, 9.x


Thomson
Grass Valley

Canopus Edius NEO


1.x, 2.x

Canopus Edius


4.x, 5.x




Magix

Magix Video Deluxe


15, 16

Magix Movie Edit Pro 15
Magix Video Pro X




Pinnacle

Pinnacle Studio
For the use in Pinnacle Studio, an unlocked 'Adorage Transitions for Studio' and/or 'Adorage Videofilter for Studio' is required. Optional available at Pinnacle Systems.

| | |
| --- | --- |
| Avid | Avid Liquid 7.x |




Ulead

Ulead Mediastudio


7.x, 8.x

Ulead Videostudio


10.x, 11.x




Corel

Corel Videostudio 12.x
Corel VideoStudio Pro X2
Adorage Magic PC
User interface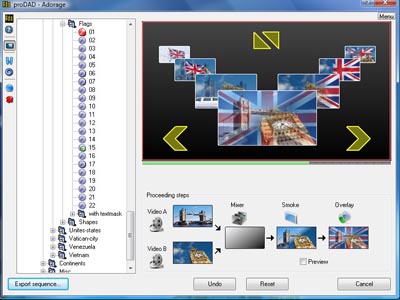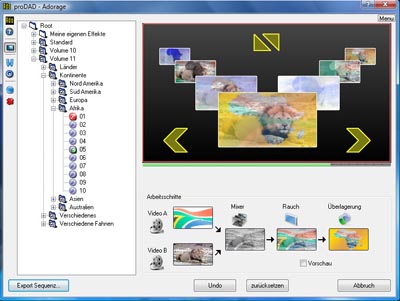 Technical data:
Available languages for the user interface

English, Deutsch, Français, Español, Italiano

Operating System

Windows XP, Windows Vista

(32/64 Bit)

, Windows 7

(32/64 Bit)

System

DVD drive
1.5 GB free disk space
For use as a plug-in, one of the video editing solutions listed.
Adorage Magic PC
Video Footage used for these samples is not included in the software package.