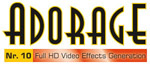 Adorage Effects Package 10 - HD Video Effects Generation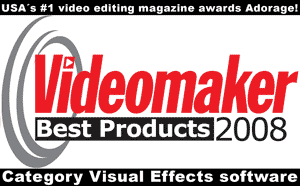 It's 10 years since the first Adorage effect package was published and today, the Adorage range includes more than 10,000 effect presets. Now the 10th Adorage effects package is out – with more than 700 effects in up-to-date HD quality!
The best Adorage package ever, with the ultimate technology for all HD enthusiasts – and SD film-makers too!

Plus a veritable tuning package, also for users of older Adorage effect packages!
The Camtasia Studio video content presented here requires JavaScript to be enabled and the latest version of the Macromedia Flash Player. If you are you using a browser with JavaScript disabled please enable it now. Otherwise, please update your version of the free Flash Player by downloading here.
This package offers you a range of amazing effects for your video productions. And these are the themes:
Love and weddings
Family memories
Holiday, travel and landscapes
Parties and events
Sports
Plus a vast range of effects for universal use:
Magic particle effects
Decorative frames
Atmospheric shapes and colours
Decorative zoom, scaling and rotation effects
Brilliant opening/closing effects for introductions or film endings
The best Adorage effects ever – only on Adorage Volume 10!
Multicore support for superfast rendering
Quick & easy selection of effects
Improved handling
New video filter plug-ins for a wider range of uses
Our recommendation to users of other Adorage effect packages:
get all the above benefits, by installing Adorage 10 to tune your "old effects"!
Introductory offer! 20% discount! Only available until 31 December 2008

Order Effect Package 10 now at the introductory price – as a download or including an optional CD.
Effect Package 10
Also available from all participating dealers

Latest Review:
www.computer-takeaway.co.uk
The program certainly offers a lot of effects and it is easy to see why many amateurs and professionals enjoy using the software. The package offers themed effects in the genres of "Love & Weddings", "Family Memories", "Holiday, Travel & Landscapes", "Parties & Events" and also "Sports". Additionally a full range of non-themed effects are included for more customised scripts, including the all important opening and ending effects.

If you do a lot of video editing, whether as an amateur or professional, Adorage Effects Package 10 offers a series of very simply implemented, yet professional effects, with plug-ins for the most commonly used video editing packages and we feel it is well worth purchasing.
Read more ...
---
The Online Software Magazine, UK
This program definitely offers a huge amount of stuff for the money and I am confident that both amateurs and experts will find more than enough to pull out of the bag.

Adorage 10 offers a series of very simply implemented, yet professional effects, with plug-ins for the most commonly used video editing packages. With over 700 customisable video and transition effects it is easy to see why ProDAD have become a leading player in the video editing market.
Read more ...



Adobe

Adobe Premiere Elements


1.0, 1.5, 2.0, 3.0, 4.0, 5.0, 6.0, 7.0

Adobe Premiere Pro


1.0, 1.5, 2.0, CS3

Adobe Premiere CS4compatibility




Sony

Sony Vegas


5.x, 6.x, 7.x, 8.x

Sony Movie Studio


6.x, 7.x, 8.x, 9.x


Thomson
Grass Valley

Canopus Edius NEO


1.x

Canopus Edius


4.x, 5.x




Magix

Magix Video Deluxe 15
Magix Movie Edit Pro 15
Magix Video Pro X




Pinnacle

Pinnacle Studio
For the use in Pinnacle Studio, an unlocked 'Adorage Transitions for Studio' and/or 'Adorage Videofilter for Studio' is required. Optional available at Pinnacle Systems.

| | |
| --- | --- |
| Avid | Avid Liquid 7.x |




Ulead

Ulead Mediastudio


7.x, 8.x

Ulead Videostudio


10.x, 11.x




Corel

Corel Videostudio 12.x
Corel VideoStudio Pro X2
Adorage Magic PC
User interface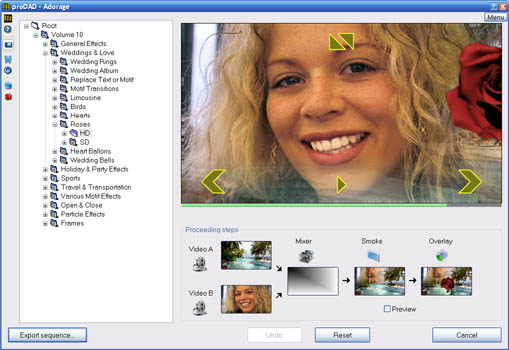 Technical data:
Available languages for the user interface

English, Deutsch, Français, Español, Italiano

Operating System

Windows 2000, Windows XP, Windows 2003, Windows Vista

System

DVD drive
1.5 GB free disk space
For use as a plug-in, one of the video editing solutions listed.
Adorage Magic PC